Tourist visiting in Lalitpur Sub-Metropolitan City have been troubled with the double the entrance fee that have to pay to enter the Sub-Metropolitan City area and to visit Patan Durbar Square Museum entrance fee separately. MoU has been signed between Lalitpur Sub-Metropolitan City and Patan Museum Development Committee to collect the tourist entrance fee only once.
This understanding will be effective from September 17,  2016.
Earlier, tourists from SAARC countries had to pay Rs. 250 and tourist from other coutries had to pay Rs.750 to enter Sub-Metropolitan Area and Rs. 450 to visit Patan Museum
With the implementation of Unidoor system, tourist other than SAARC countries have to payand tourist fee of Rs 1 thousand and  tourists from SAARC countries has been maintained for the 2 hundred and 50 rupees.
From the amount collected from unidoor system, 75% is allocated for Lalitpur Sub-metropolitan City, 15% for Museum Development Committee, 5% for the maintenance of the dubar square palace area and 5% for the promotion of tourism and administrative expenses.
---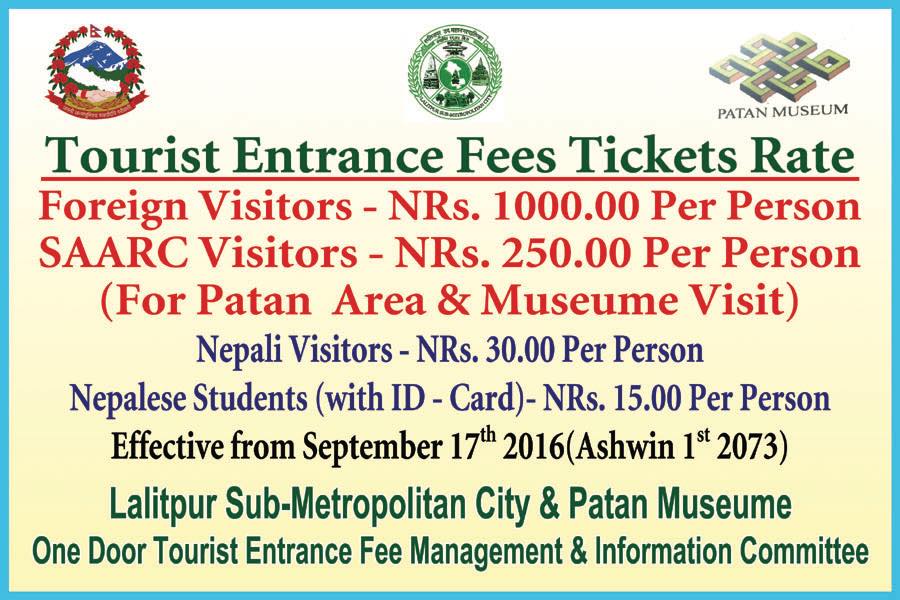 ---
एकद्वार पर्यटन प्रवेश सेवा शुल्क व्यवस्थापन कार्यविधि २०७३